One of the things I noticed with my first quilt, which I quilted on my normal sewing machine, was the amount of wrestling and work I had to do to move it under the needle, over and over again until the quilting was done. At this point I decided that if I was going to do bigger quilts, I didn't want to have this issue forever, or I would end up sending my quilts for someone else to quilt them and just doing the piecing myself (this was so not the point of quilting being my hobby...).
That is why I decided to start looking for a sit down long arm machine. My requirements when I started looking were:
Sit down machine
16" or more of throat space
Stitch regulation
I didn't have the space for a frame and a standing long arm, because I still wanted to be able to fit all my fabric crafts in one room, including stash and table for cutting and using the serger and normal sewing machine, which I am still using in the dining room because we haven't had the inspiration to finish building the furniture for the crafts room.
The machines we considered and why we didn't buy them:
Bernina Q16. This was a really good option but was slightly deeper (table+machine) than I wanted. It would have eaten into my limited space more than my chosen one.

Juki Miyabi J-350. This was my front runner and favorite, because I love my Juki sewing machine so much, but they wouldn't sell it to me with stitch regulation in the UK. The version available in the UK had no stitch regulation.

HQ Capri 18". This machine was one of my front runners, but it again was deeper than I wanted when fully mounted in its table, which meant less space for the other table in the crafts room. Not to mention I could choose the HQ Sweet Sixteen with the same quilting space and stitch regulation than the Capri and have it be slightly less bulky at the back, perfect choice for me. I was moving from 7.5" throat space to 16" or 18"... which wasn't a massive difference in terms of being able to fit a biggish quilt under the needle for me (I don't do massive quilts). The Capri was also more expensive than the Sweet Sixteen, which was a plus for me.
And here is the chosen one in all its glory: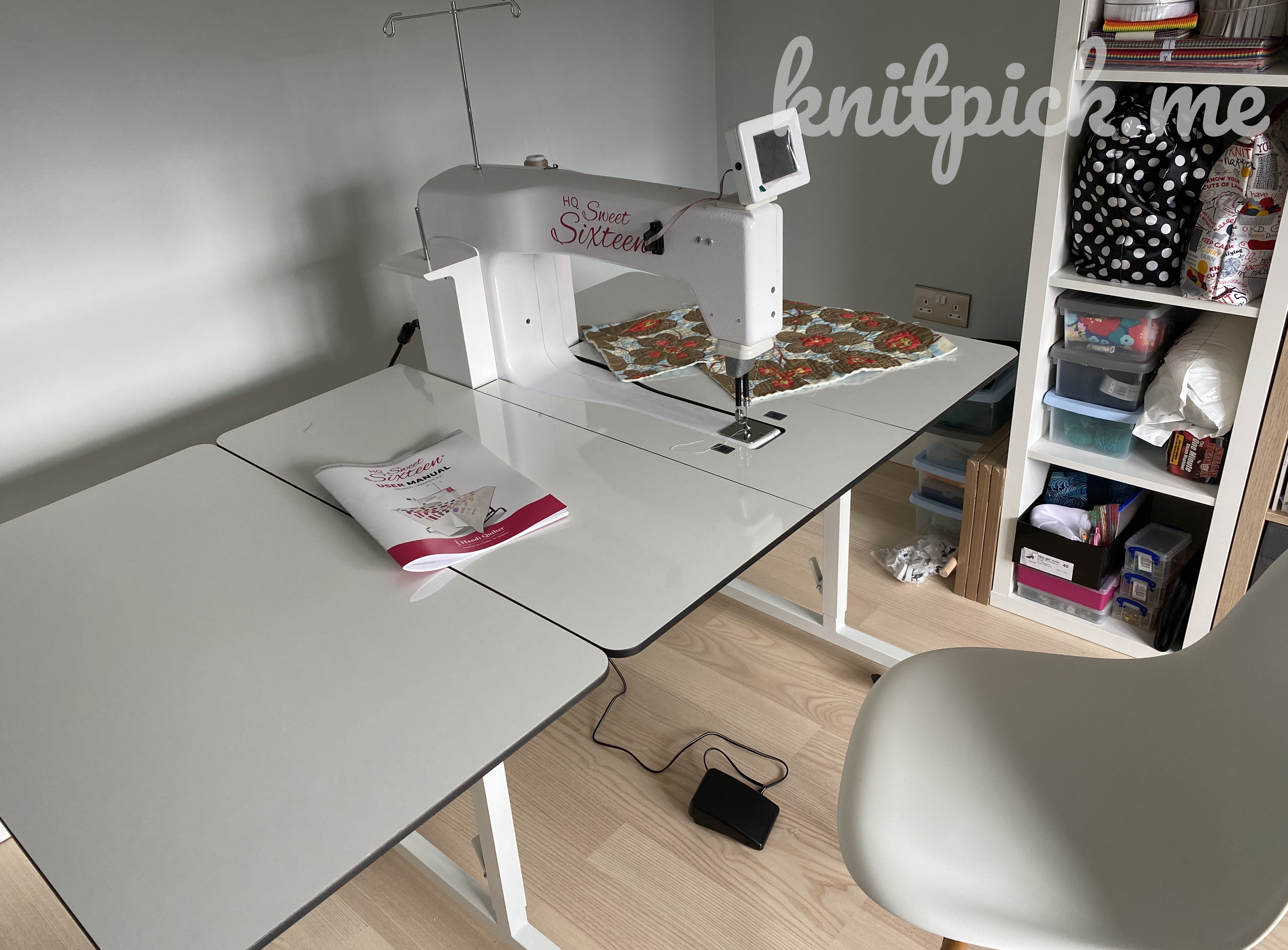 Originally I bought it with just 1 side table, because I wasn't sure it'd fit with the two of them open or if it would be too bulky. Soon enough I decided to order the second table as well: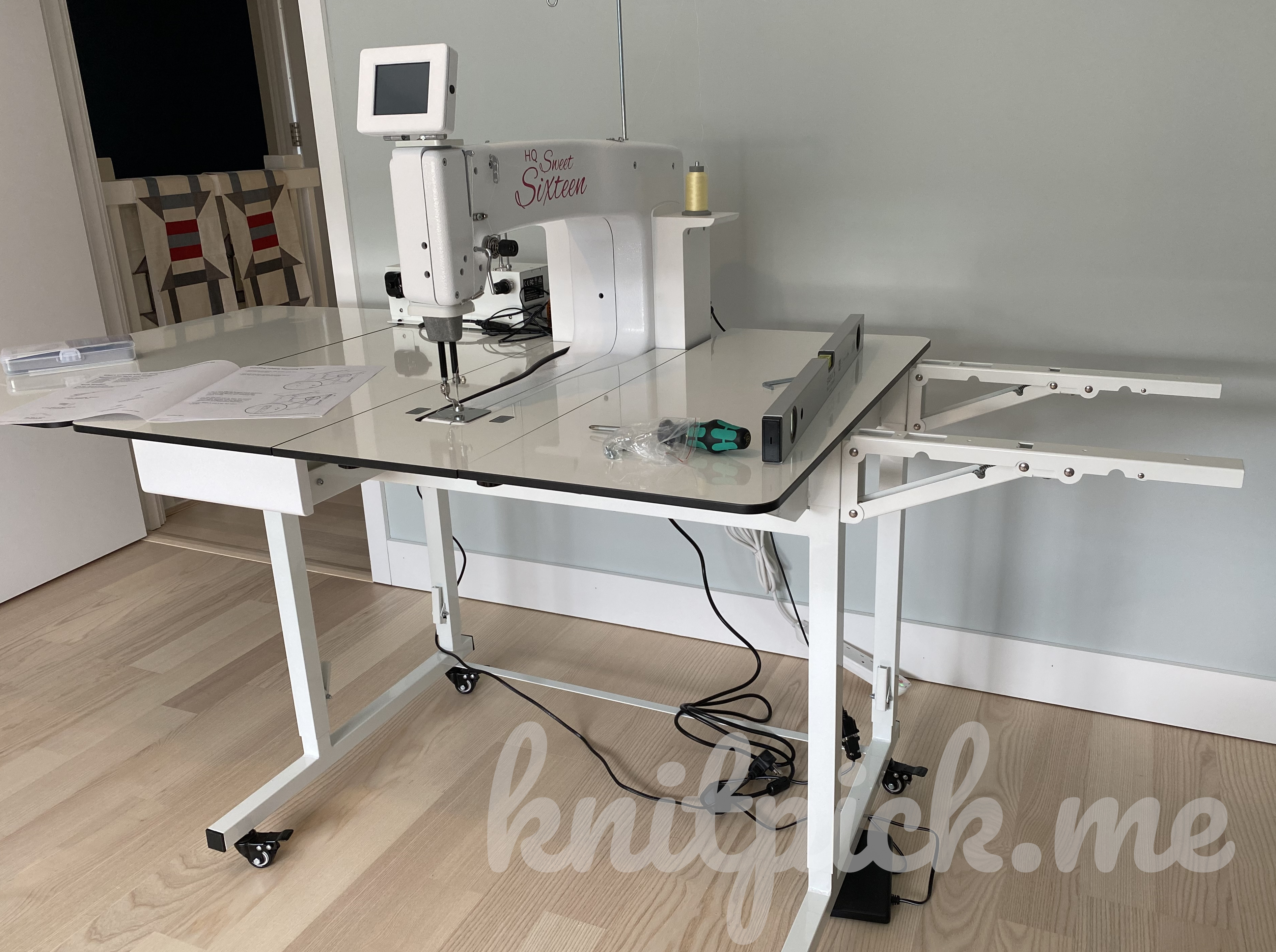 I bought the HQ Sweet Sixteen because of its compact size, but also it's powerful features. It is an industrial sewing machine in a cute, compact format. The price was steep for me (used to normal sewing machine prices), but I saved and bought it. I thought that if it didn't work for me there is a market for used HQ machines and I could sell it.
One of the big pluses of buying the Sweet Sixteen is the massive support I got from Pinhole Quilting. They answered all my questions, got me started with all the things you need to know to be able to operate a longarm (tension is a big thing with long arms that you normally don't need to worry with fully automated small sewing machines). And offered some in person training that I haven't really taken advantage of yet, but I will in due time. I would not have been able to do this on my own, and they made it fun and a breeze, so I could not be happier with my purchase and the community I joined by buying my Sweet Sixteen.
Since the machine arrived I have had to learn how to use it, how to change threads, how to use diferent kind of threads, needles, rulers, how to oil/take care of the machine, etc. This process has been easier for me by using pre printed panels, rather than just quilt practice on hard pieced quilts of mine (when you put 6 months worth of effort on piecing a quilt the last thing you want is to practice your quilting on it...). Here is one of my panels under the needle, this is the Flora and Foliage quilting challenge by Angela Walters: