There is a much more personable approach to learning how to knit or crochet, short of having someone in your family able to help. Your local yarn shop. I live in Cambridge in the UK and my local yarn shop is called The Sheep Shop, I highly recommend anyone coming to Cambridge (UK) to make a stop at The Sheep Shop if they are into knitting or crocheting. It is a friendly and inviting place for a yarn lover (Picture from http://www.sheepshopcambridge.co.uk/):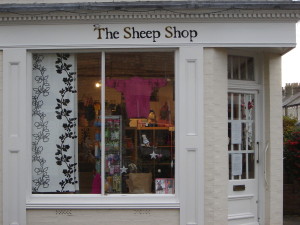 When my friend explained to me the two basic crochet stitches, back in 2013, I came home with a rudimentary knowledge of crocheting and more questions than answers. I looked around for local resources that I could use to learn on top of the on-line ones, and realised that The Sheep Shop had a very nice offering of courses to choose from, apart from beautiful yarn and other supplies.  So I joined a few crochet courses taught by Joanne Scrace, learnt how to do a few more stitches and how to read crochet patterns. I was pleasantly surprised to learn that Joanne is a designer for one of the crochet magazines I buy.
About a year later I decided to learn about knitting. I enrolled in two beginner knitting classes taught by Sarah, the shop owner, which got me started reading patterns and picking up new techniques by reading on my own or watching on-line training. There are endless techniques to learn and choose from, each one destined to help with a different need or type of garment. I seem to enjoy them all. This weekend I attended a double knitting class, taught by Anwen Rose, and I will write about it on a different post. 
If you are isolated and don't know anyone that knits or crochets, just pop by your local yarn shop and ask, you may find help is closer than you expected.