During November we had some holidays to spend before year end and we decided to go to New York. This time I managed to plan a bit better and I had the opportunity to visit two yarn shops that I thought would be interesting. 
Today I will talk about my experience with Knitty City, we went there one evening, after a lot of walking and I was ready to buy some lovely and local yarn and go back to the hotel to rest and crochet something. The shop looked inviting from the outside and I thought that because this was a private shop (rather than a big crafts store like Michael's) it would be cosy and inviting, but when I went in the place was small and crammed. Lots of people, yarn and books. This in itself is normal for a busy yarn shop, but there was something that didn't really cut it for me. I decided not to buy anything and just leave. It is difficult to explain, but at times when I go into a yarn shop I know I am going to buy a lot of yarn, because the place feels right. In this case, it was the opposite, it felt wrong and I ended up not staying more than a couple of minutes. I know this is a totally subjective experience and maybe other people may find it very inviting so I am glad I took a couple of pictures: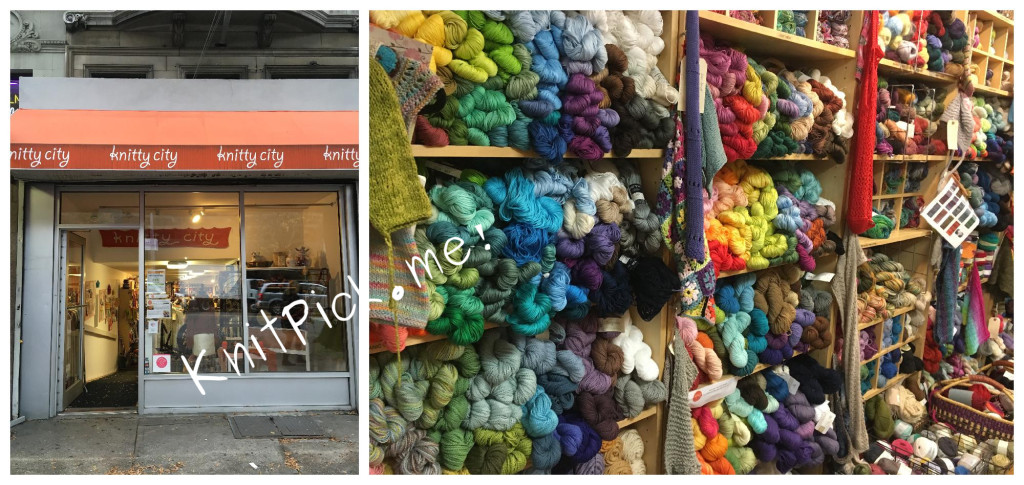 It is interesting that yarn shops, like clothes shop in my case, are very polarizing: I either love them and want to buy tons of things (that I mostly don't need) or hate them and don't want to buy anything (even if I need it). For me, disorganisation and chaos is the deal breaker. If things are well organised and I can navigate my way through them and understand their classification all is good, but if things are piled up in a perceived disorganized fashion with lots of people trying to find something digging into the chaos, I prefer not to join and wind up leaving empty handed. Then there is also the odd place where they look at you like you are bothering them (you can see they are either knitting and chatting to some local or browsing the web aimlessly) and in this case, regardless of the shop organization, I don't buy anything either.