This is the list of projects I have pending to finish at the moment, it is one of my new year resolutions to tick down some items from this list.
Minion. Crochet. This project has been in the making for a year, I don't seem to be able to find enough quality time to finish it whilst enjoying the crafting. For this project I am following an online pattern.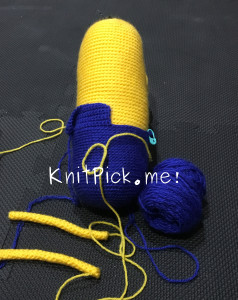 Want to finish it? YES  :-) 
My first jumper ever. Knitting. In December 2014 I naively decided to make a jumper for me and one for my partner. I went to great lengths to choose patterns that we both liked and I started with mine because I knew it would be my first and wanted to learn from the experience before I made one for him. I had no idea how much effort goes into making a knitted jumper until I actually tried. After buying (following the pattern's advice) all the yarn I needed for my size I started knitting, knitting and knitting some more… to the point that I didn't want to knit ever again, it was never ending, specially with the added stress of having to knit an extra one. At some point I decided to put the project away and move to smaller, more achievable ones. The pattern I chose for mine was Winter Trees in Wendy Mode Chunky - 5755.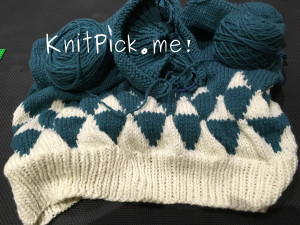 Want to finish it? YES, if only to learn from the experience, it is already too big for me to be able to wear so I just want to finish it to learn from my mistakes.
Another armadillo. This was supposed to be a quick project that I started on a trip this year. I never finished it and I would very much like to have an armadillo friend for the other one. I think I will make it green from leftover yarn from the jumper this time. The body is already from the white leftover.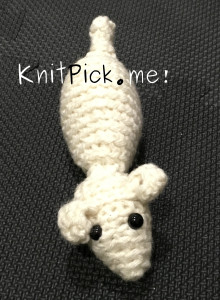 Want to finish it? YES
Crocheted box. I saw this awesome pattern of a crocheted cube box and I decided to make one. I worked on it and did even cut some plastic sides for it. However I never managed to finish it or find the motivation to go back to it.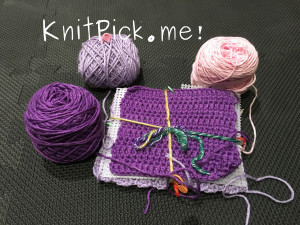 Want to finish it? NO, I don't think I want such a box any more. This item is falling from my list.
Wedding couple. I went to a wedding in May and I wanted to give the bride and groom a little crocheted present. Unfortunately work didn't allow for enough time and I didn't get very far on my attempt. The pattern from Amigurumi Askina doesn't seem to be available any more, I have found a translation to Spanish of it on this website. I didn't get very far with this one: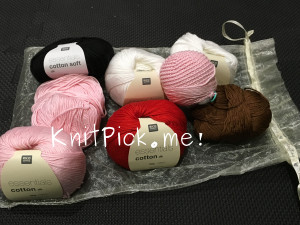 Want to finish it? NO, the use case is not there any more, the original pattern is not available any more and the recipients didn't know about this and are already happily married so there is no point in continuing with it. Another project off my list.
Socks. Crochet. I found a lovely pattern and a lovely yarn to go with it for socks. However for some reason I never got enough energy or drive to finish even one.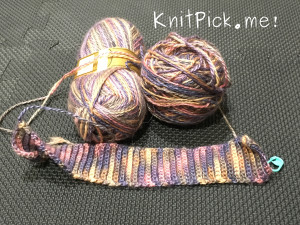 Want to finish it? NO, this is a project that I don't feel motivated enough to go back to.
And that is it. These are all the projects I managed to find, I am sure I must have some more stashed somewhere but I was not able to find them. I have now three projects that I want to finish as a matter of priority before moving on to something new and exciting. I think from now on I will stick to one or two projects at any given time so that I don't get overwhelmed by the amount of unfinished business on my stash.